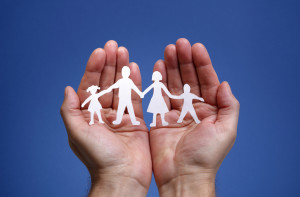 Q: My husband would like to adopt my child. My child's father has never been involved in her life. How do we go about terminating his rights?
A: There are two different ways to terminate his rights. One process is known as a surrender and will require his cooperation. The other method permits you to terminate his rights even without his cooperation. Your husband will then be able to complete what is known as a stepparent adoption. There are also some circumstances under which the biological father's rights do not even need to be terminated, and you can proceed directly to the adoption. 
Q: What do we do if my child's biological father refuses to give up his rights?
A: There are alternative ways to terminate the father's rights through the court process without consent from him. However, this makes the adoption process more complex and it will take longer to accomplish. Once the adoption process gets started, the father may come to realize that consenting to the adoption can provide benefits to both himself and the child, and he may become willing to cooperate with the adoption process.
Q: Is a home study required for stepparent adoptions in New Hampshire?
A: Generally a home study is not required in New Hampshire for stepparent adoptions. Typically, the adopting parent will only undergo a background check, consisting of a criminal records check, a child abuse registry check, and an adult abuse registry check.
Q: Can my child's name be changed as part of the stepparent adoption process?
A: Yes, New Hampshire law allows your child's name to be changed as part of the stepparent adoption process in one simple step and at no extra cost.
Q: What paperwork will we receive as proof of the adoption in New Hampshire?
A: You will receive an adoption decree directly from the court, and you can purchase extra copies of this document directly from the court. If your child was born in New Hampshire, you can also receive an amended birth certificate (with the adopting parent's name on it), which arrives in the mail a few weeks later. If your child was born in another state, you generally can obtain an amended birth certificate from the vital records department in that state.
Q: We are a lesbian couple. Can we use the New Hampshire stepparent adoption process to confirm the non-biological mother's legal relationship to our child?
A: Yes. Married female same-sex couples can accomplish a second parent adoption in New Hampshire using the stepparent adoption laws. For couples who are not married or in a civil union, accomplishing an adoption can be more of a challenge.
Q: How quickly can a stepparent adoption be accomplished in New Hampshire?
A: This will vary from court to court, but it generally will take about 60-90 days to complete a simple stepparent adoption. It may take longer for more complex situations, such as when a biological father's or known sperm donor's rights must be terminated.
Q: We now live in New Hampshire, but my child was born in a different state. Can we pursue a stepparent adoption in New Hampshire?
A: Yes. Typically, your child's birth state will issue an amended birth certificate following the adoption, replacing the birth parent's name with the stepparent's name.
Please contact me at the Law Office of Catherine Tucker to learn more about how I can assist you with your adoption in New Hampshire.

Related Posts :